You Have to Fucking Eat (Go the Fuck to Sleep #2) (Hardcover)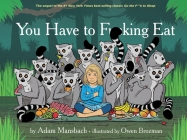 Description
---
A New York Times Best Seller One of BookRiot's Must-Read Books from Indie Presses for 2014 One of Flavorwire's 50 Best Independent Fiction and Poetry Books of 2014 You Have to F***ing Eat makes parents of picky eaters smile.
--TODAY Parents Adam Mansbach...will delight exhausted and exasperated parents everywhere for a second time with You Have to F**king Eat--another children's book that is most definitely not for children.
--Entertainment Weekly An equally hilarious ode to kids at the table.
--Huffington Post Parents, Adam Mansbach gets you. He understood that sometimes your kids just won't go the f**k to sleep. And, in his new foulmouthed bedtime book for parents out Wednesday, he understands that sometimes they just won't f**king eat. And he knows, well, it's really f**king annoying. So how about some f**king comic relief?
--GQ A likeable variation on a universal f***ing theme.
--Kirkus Reviews A hilarious sendup of the eternal fight between kids and their parents over what to eat and when--if at all.
--New York Journal of Books If you're a frustrated parent with a picky child, or even just one who appreciates 'deranged' humor, especially humor that rhymes, this is a terrific read for you...Parents will enjoy a good chuckle and subtle reminder that everything is better, including parenthood, if tackled with a little bit of humor.
--San Francisco Book Review You Have to F**cking Eat, Sequel to Go the F**k to Sleep, Is Finally F**king Coming...It will arrive just in time to gift it to your brother-in-law, who, upon unwrapping it, will clutch it immediately to his chest and shake his head furiously at his waist-high daughter as she claws at him with her chewed up nails. 'No, no, it's not for you, ' he'll say, laughing and crying at the same time.
--Flavorwire An uproarious spoof of bedtime board books.
--San Francisco Chronicle A 21st-century bedtime story for the ages (and all ages) if there ever was one.
--Bay Area Reporter Parents, when your precious angel rips you from your three hours of sleep to demand food that he won't actually eat, you'll want this f'ing book.
--Mashable Forthcoming new book by genius funnyman Adam Mansbach.
--BoingBoing Mansbach freely, fabulously curses out the uncensored truth; Brozman makes sure you'll recognize your irresistible, equitably diverse mini-mes with those all-too-familiar expressions, from utter disdain to overwhelming trust and every little eyeball roll in between.
--BookDragon/Smithsonian Asian Pacific American Center If your kid has never presented you with some new mind-boggling preference at mealtime, I suspect you're lying.
--Persephone Magazine This book is genius. It is what every parent is thinking when their child refuses dinner.
--Old School/New School Mom With this soon-to-be crude classic, Adam Mansbach has nailed it with his undeniable animal/child comparisons all cozily complimented by Owen Brozman's humorous illustration--we dare you not to giggle into your eggnog.
--Curious Mom Illustrations are just as enjoyable and the narrative again paints the perfect picture.
--Roundtable Reviews From the author of the international best seller Go the F*** to Sleep comes a long-awaited sequel about the other great parental frustration: getting your little angel to eat something that even vaguely resembles a normal meal. Profane, loving, and deeply cathartic, You Have to F***ing Eat breaks the code of child-rearing silence, giving moms and dads new, old, grand- and expectant, a much-needed chance to laugh about a universal problem. A perfect gift book like the smash hit Go the F*** to Sleep (over 1.5 million copies sold worldwide ), You Have to F***ing Eat perfectly captures Mansbach's trademark humor, which is simultaneously affectionate and radically honest. You probably shouldn't read it to your kids, so there's a kid-friendly version, Seriously, You Have to Eat.

About the Author
---
Adam Mansbach is the author of the #1 international bestseller Go the F*** to Sleep, as well as the novels Rage Is Back, Angry Black White Boy, The Dead Run, and The End of the Jews, winner of the California Book Award. He has written for the New Yorker, the New York Times, Esquire, the Believer, and National Public Radio's All Things Considered. His daughter Vivien is not as picky about food as she used to be. Owen Brozman has illustrated for National Geographic, Time Out New York, Scholastic, Ninja Tune, Definitive Jux Records, and numerous other clients. He and Mansbach's previous collaboration is the acclaimed graphic novel Nature of the Beast, and his work has been recognized by the Society of Illustrators of Los Angeles, Creative Quarterly Journal, 3X3 Magazine, and many more. He lives in Brooklyn with his wife and daughter, whose favorite food is bananas.
How to read more
https://unsplash.com/@birminghammuseumstrust
( Birmingham Museums Trust's Digital Image Resource shares thousands of images that span decades of Birminghams vibrant past)
How To Read More
If you love reading, but for some reason you read less and less, know that everything is fine. It happens.
Our lives today have so many things that distract us - how can we not put books away when all these movies, TV shows, YouTube videos, social networks and endless surfing in online stores are around ...
Yes, it's really hard to resist, but you certainly can!
In this article, we want to share with you some tips to read more often and more successfully.
These are some notes and some practices that we have collected for our SUNDOG BOOKS readers club.
And maybe it will bring more books into your life!
Why do we want/need to read more?
To start reading more, you have to understand why you need it.
And you will be surprised, but your goals can be quite varied:
- for work
If you read a lot on duty, then you definitely need to speed up the process. The logic here is simple: read faster → work faster → more time for books for yourself.
- for education
you need this for your educational career or sometimes you just want to read to learn. And, with all the new alternative ways to gain knowledge (podcasts, online courses and videos), the book still does an excellent job of this task too.
- for self-development
all exercises for increasing speed, one way or another, improve cognition and memory.
- for fun
because good books always = fun!
Book lovers have an additional special goal for reading more often. If you love literature, you will understand what we mean: you want to catch everything - to follow modern literature, and not forget about the classics, look into non-fiction and children's publications. And there's so much you want to reread! The goals are ambitious, but attainable if you read a lot.
And so - How to read more:
We will tell you about the methods that we use ourselves. Perhaps some will suit you as well.
15 minutes a day
You've probably already heard this rule: if you want to start a healthy habit, devote 15 minutes a day to it. Once upon a time, we all read irregularly, in jumps and starts. Sometimes we cannot open a book we have begun weeks ago. Therefore, you should decide to create a rule: devote at least 15 minutes a day to reading. Try reading before bed, or maybe during lunchtime, or even when you are having your morning coffee.
You will see progress immediately. You will notice that almost always your 15 minutes will grow into half an hour or more. But the most remarkable thing is that in three weeks your hands themselves will be looking for a book.
50 First Pages
This method advises - If the book hasn't hooked you from the first 50 pages, put it aside! Life is too short to read uninteresting books.
It is necessary to change the approach to books. At first it will be hard for you to stop and put the book down. Even if we put the book away, it will seem to reproach us from the shelf, mocking us as quitters. But in the end we should come to one simple thought: if it doesn't hook your attention, you should not force yourself to read it.
***Fifty pages is not a bad test. Not the most objective, but definitely effective. It helps to determine whether it interests you or not, and whether to spend time on things that do not excite.
Reader's Diary
This should be used to improve the quality of reading - to make it more conscious. For starters, it can be a simple notebook with headings:
Author
Year of publication
Main characters
Scene
Plot
Theme
Quotes
And, yes, a reader's diary is not a thing about quantity, but about quality. But, it can also motivate. When you open your diary and start looking at quotes (especially quotes), you immediately really want to read.
Maybe a Book Bet?
Several people can participate. Members of the betting group can come from friends, family, and also your colleagues. And of course you can set your own rules for participation, but we'll give you a simple example:
Everyone in the group should read and review a book over the course of a month with weekly updates. Anyone who does not finish a review buys the book for all other participants for the next month.
Speed Reading
Another effective way to increase the amount you read is speed reading. The logic here is simple - the faster you read, the more books you can enjoy.
*There are many online courses on speed reading, and you can also study on your own using instructional books. But, it is worth noting that this is a serious learning process that will require some effort on your part.
Outcome

Reading every day is quite attainable, the main thing is to try to make it a habit.
Sometimes, instead of heading for Facebook, try opening a book and soon you won't even remember why you needed to wander around social media.
And also - don't forget about audiobooks. They are a cool way to take the load off your eyes sometimes and just immerse yourself in the story. Some books are really strong in voice acting.