Dune: Book One in the Dune Chronicles (CD-Audio)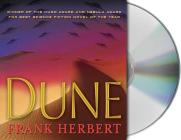 Description
---
SOON TO BE A MAJOR MOTION PICTURE directed by Denis Villeneuve, starring Timothée Chalamet, Josh Brolin, Jason Momoa, Zendaya, Rebecca Ferguson, Oscar Isaac, Javier Bardem, Dave Bautista, Stellan Skarsgård, and Charlotte Rampling.

Set on the desert planet Arrakis, Dune is the story of the boy Paul Atreides, who would become the mysterious man known as Maud'dib. He would avenge the traitorous plot against his noble family—and would bring to fruition humankind's most ancient and unattainable dream.

A stunning blend of adventure and mysticism, environmentalism and politics, Dune won the first Nebula Award, shared the Hugo Award, and formed the basis of what is undoubtedly the grandest epic in science fiction. Frank Herbert's death in 1986 was a tragic loss, yet the astounding legacy of his visionary fiction will live forever.
About the Author
---
Frank Herbert (1920-1986) created the most beloved novel in the annals of science fiction, Dune.  He was a man of many facets, of countless passageways that ran through an intricate mind.  His magnum opus is a reflection of this, a classic work that stands as one of the most complex, multi-layered novels ever written in any genre.  Today the novel is more popular than ever, with new readers continually discovering it and telling their friends to pick up a copy.  It has been translated into dozens of languages and has sold almost 20 million copies.

As a child growing up in Washington State, Frank Herbert was curious about everything. He carried around a Boy Scout pack with books in it, and he was always reading.  He loved Rover Boys adventures, as well as the stories of H.G. Wells, Jules Verne, and the science fiction of Edgar Rice Burroughs.  On his eighth birthday, Frank stood on top of the breakfast table at his family home and announced, "I wanna be a author."  His maternal grandfather, John McCarthy, said of the boy, "It's frightening. A kid that small shouldn't be so smart." Young Frank was not unlike Alia in Dune, a person having adult comprehension in a child's body.  In grade school he was the acknowledged authority on everything.  If his classmates wanted to know the answer to something, such as about sexual functions or how to make a carbide cannon, they would invariably say, "Let's ask Herbert. He'll know."

His curiosity and independent spirit got him into trouble more than once when he was growing up, and caused him difficulties as an adult as well.  He did not graduate from college because he refused to take the required courses for a major; he only wanted to study what interested him.  For years he had a hard time making a living, bouncing from job to job and from town to town. He was so independent that he refused to write for a particular market; he wrote what he felt like writing.  It took him six years of research and writing to complete Dune, and after all that struggle and sacrifice, 23 publishers rejected it in book form before it was finally accepted. He received an advance of only $7,500.

His loving wife of 37 years, Beverly, was the breadwinner much of the time, as an underpaid advertising writer for department stores.  Having been divorced from his first wife, Flora Parkinson, Frank Herbert met Beverly Stuart at a University of Washington creative writing class in 1946.  At the time, they were the only students in the class who had sold their work for publication.  Frank had sold two pulp adventure stories to magazines, one to Esquire and the other to Doc Savage.  Beverly had sold a story to Modern Romance magazine.  These genres reflected the interests of the two young lovers; he the adventurer, the strong, machismo man, and she the romantic, exceedingly feminine and soft-spoken.

Their marriage would produce two sons, Brian, born in 1947, and Bruce, born in 1951. Frank also had a daughter, Penny, born in 1942 from his first marriage.  For more than two decades Frank and Beverly would struggle to make ends meet, and there were many hard times.  In order to pay the bills and to allow her husband the freedom he needed in order to create, Beverly gave up her own creative writing career in order to support his.  They were in fact a writing team, as he discussed every aspect of his stories with her, and she edited his work.  Theirs was a remarkable, though tragic, love story-which Brian would poignantly describe one day in Dreamer of Dune (Tor Books; April 2003).  After Beverly passed away, Frank married Theresa Shackelford.

In all, Frank Herbert wrote nearly 30 popular books and collections of short stories, including six novels set in the Dune universe: Dune, Dune Messiah, Children of Dune, God Emperor of Dune, Heretics of Dune, and Chapterhouse: Dune.  All were international bestsellers, as were a number of his other science fiction novels, which include The White Plague and The Dosadi Experiment.  His major novels included The Dragon in the Sea, Soul Catcher (his only non-science fiction novel), Destination: Void, The Santaroga Barrier, The Green Brain, Hellstorm's Hive, Whipping Star, The Eyes of Heisenberg, The Godmakers, Direct Descent, and The Heaven Makers. He also collaborated with Bill Ransom to write The Jesus Incident, The Lazarus Effect, and The Ascension Factor.  Frank Herbert's last published novel, Man of Two Worlds, was a collaboration with his son, Brian.
Scott Brick first began narrating audiobooks in 2000, and after recording almost 400 titles in five years, AudioFile magazine named Brick a Golden Voice and "one of the fastest-rising stars in the audiobook galaxy." He has read a number of titles in Frank Herbert's bestselling Dune series, and he won the 2003 Science Fiction Audie Award for Dune: The Butlerian Jihad. Brick has narrated for many popular authors, including Michael Pollan, Joseph Finder, Tom Clancy, and Ayn Rand. He has also won over 40 AudioFile Earphones Awards and the AudioFile award for Best Voice in Mystery and Suspense 2011. In 2007, Brick was named Publishers Weekly's Narrator of the Year.

 Brick has performed on film, television and radio. He appeared on stage throughout the United States in productions of Cyrano, Hamlet, Macbeth and other plays. In addition to his acting work, Brick choreographs fight sequences, and was a combatant in films including Romeo and Juliet, The Fantasticks and Robin Hood: Men in Tights. He has also been hired by Morgan Freeman to write the screenplay adaptation of Arthur C. Clarke's Rendezvous with Rama.
Orlagh Cassidy is the winner of the 2009 Best Voice in Children & Family Listening and the 2008 and 2011 Best Voice in Mystery & Suspense. She's narrated for Jacqueline Winspear, James Patterson, Erica Spindler, Beth Harbison, and Frank Herbert, among others.

 

Cassidy's Broadway credits include Present Laughter with Frank Langella, Our Country's Good, and Suddenly Last Summer.  She has appeared Off-Broadway in Bright Ideas and The Field at The Irish Rep (Drama Desk Nomination). She was "Doris Wolfe" on The Guiding Light and her other television appearances include Sex and the City, Law & Order, Law and Order SVU, and Elementary.  She also appeared in the films Purple Violets, Young Adult, and Definitely, Maybe.
Euan Morton
's
narration credits include Christopher Moore's
Fool
and
Sacre Bleu
, Neil Gaiman's
Stories
, Eoin Colfer's
Benny
books, and Frank Herbert's
Dune
and
Chapterhouse Dune
. Morton's
breakthrough role was appearing as Boy George in the musical
Taboo
, which earned him a Laurence Olivier Award nomination. He reprised the role on Broadway, earning Tony, Drama Desk, Outer Critics Circle and Drama League Award nominations, as well as the Theatre World Award (for Outstanding Broadway Debut). Morton's other stage performances include
Leaves of Glass, Sondheim on Sondheim
, and
Cyrano De Bergerac
. He lives in New York City and Arlington, Virginia.
Simon Vance is the critically acclaimed narrator of approximately 400 audiobooks, winner of 27 AudioFile Earphones Awards, and a 12-time Audie Award-winner. He won an Audie in 2006 in the category of Science Fiction and was named the 2011 Best Voice in Biography and History and in 2010 Best Voice in Fiction by AudioFile magazine. 

 Vance has been a narrator for the past 25 years, and also worked for many years as a BBC Radio presenter and newsreader in London.  Some of his best-selling and most praised audiobook performances include Stieg Larsson's The Girl with the Dragon Tattoo, Hilary Mantel's Bring Up the Bodies (an Audie award-winner), Ian Fleming's Casino Royale, Oscar Wilde's The Picture of Dorian Gray, Patrick O'Brian's Master and Commander series (all 21 titles), the new productions of Frank Herbert's original Dune series, and Rob Gifford's China Road (an AudioFile 2007 Book of the Year). Vance lives near San Francisco with his wife and two sons.
Ilyana Kadushin is best known for her narration of the Twilight audiobook series, and has worked on other audiobooks, including The Memory Keeper's Daughter, Post Grad and Dune, which won an Audie Award. Her other voice work includes national commercials, animation, and popular video games such as Lord of the Rings.

 

Kadushin has performed as both an actor and a singer for companies including Nickelodeon, BBC America, Sesame Street Television, MTV, and Cartoon network. She sang on the soundtrack of HBO Best Documentary Film Award & Finalist Separate But Equal.
Praise For…
---
"Unique...I know nothing comparable to it except Lord of the Rings." —Arthur C. Clarke

"One of the monuments of modern science fiction." —Chicago Tribune

"Powerful, convincing, and most ingenious." —Robert A. Heinlein

"A portrayal of an alien society more complete and deeply detailed than any other author in the field has managed...a story absorbing equally for its action and philosophical vistas...An astonishing science fiction phenomenon." —The Washington Post
How to read more
https://unsplash.com/@birminghammuseumstrust
( Birmingham Museums Trust's Digital Image Resource shares thousands of images that span decades of Birminghams vibrant past)
How To Read More
If you love reading, but for some reason you read less and less, know that everything is fine. It happens.
Our lives today have so many things that distract us - how can we not put books away when all these movies, TV shows, YouTube videos, social networks and endless surfing in online stores are around ...
Yes, it's really hard to resist, but you certainly can!
In this article, we want to share with you some tips to read more often and more successfully.
These are some notes and some practices that we have collected for our SUNDOG BOOKS readers club.
And maybe it will bring more books into your life!
Why do we want/need to read more?
To start reading more, you have to understand why you need it.
And you will be surprised, but your goals can be quite varied:
- for work
If you read a lot on duty, then you definitely need to speed up the process. The logic here is simple: read faster → work faster → more time for books for yourself.
- for education
you need this for your educational career or sometimes you just want to read to learn. And, with all the new alternative ways to gain knowledge (podcasts, online courses and videos), the book still does an excellent job of this task too.
- for self-development
all exercises for increasing speed, one way or another, improve cognition and memory.
- for fun
because good books always = fun!
Book lovers have an additional special goal for reading more often. If you love literature, you will understand what we mean: you want to catch everything - to follow modern literature, and not forget about the classics, look into non-fiction and children's publications. And there's so much you want to reread! The goals are ambitious, but attainable if you read a lot.
And so - How to read more:
We will tell you about the methods that we use ourselves. Perhaps some will suit you as well.
15 minutes a day
You've probably already heard this rule: if you want to start a healthy habit, devote 15 minutes a day to it. Once upon a time, we all read irregularly, in jumps and starts. Sometimes we cannot open a book we have begun weeks ago. Therefore, you should decide to create a rule: devote at least 15 minutes a day to reading. Try reading before bed, or maybe during lunchtime, or even when you are having your morning coffee.
You will see progress immediately. You will notice that almost always your 15 minutes will grow into half an hour or more. But the most remarkable thing is that in three weeks your hands themselves will be looking for a book.
50 First Pages
This method advises - If the book hasn't hooked you from the first 50 pages, put it aside! Life is too short to read uninteresting books.
It is necessary to change the approach to books. At first it will be hard for you to stop and put the book down. Even if we put the book away, it will seem to reproach us from the shelf, mocking us as quitters. But in the end we should come to one simple thought: if it doesn't hook your attention, you should not force yourself to read it.
***Fifty pages is not a bad test. Not the most objective, but definitely effective. It helps to determine whether it interests you or not, and whether to spend time on things that do not excite.
Reader's Diary
This should be used to improve the quality of reading - to make it more conscious. For starters, it can be a simple notebook with headings:
Author
Year of publication
Main characters
Scene
Plot
Theme
Quotes
And, yes, a reader's diary is not a thing about quantity, but about quality. But, it can also motivate. When you open your diary and start looking at quotes (especially quotes), you immediately really want to read.
Maybe a Book Bet?
Several people can participate. Members of the betting group can come from friends, family, and also your colleagues. And of course you can set your own rules for participation, but we'll give you a simple example:
Everyone in the group should read and review a book over the course of a month with weekly updates. Anyone who does not finish a review buys the book for all other participants for the next month.
Speed Reading
Another effective way to increase the amount you read is speed reading. The logic here is simple - the faster you read, the more books you can enjoy.
*There are many online courses on speed reading, and you can also study on your own using instructional books. But, it is worth noting that this is a serious learning process that will require some effort on your part.
Outcome

Reading every day is quite attainable, the main thing is to try to make it a habit.
Sometimes, instead of heading for Facebook, try opening a book and soon you won't even remember why you needed to wander around social media.
And also - don't forget about audiobooks. They are a cool way to take the load off your eyes sometimes and just immerse yourself in the story. Some books are really strong in voice acting.