The Escape Room: A Novel (CD-Audio)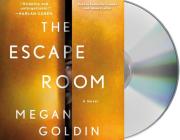 $39.99
Email or call for price.
August 2019 Indie Next List
---
"Megan Goldin's debut is sheer perfection. I was enthralled, obsessed, and utterly delighted from the gripping first chapter to the very end. The genuine quality of Goldin's voice is so engaging, you feel like you're discussing your favorite topics with a best friend. In The Escape Room, four investment bankers trapped in an overheated elevator reach a literal and figurative boiling point as survival becomes questionable. As these deeply flawed central characters fight to keep it together, a mysterious force works behind the glass walls to ensure they leave the elevator changed forever, if they leave at all. I loved every second of this novel and simply cannot wait to tell everyone about it!"
— Lauren Messamore, Watermark Books & Cafe, Wichita, KS
Winter 2020 Reading Group Indie Next List
---
"Ruthless corporate executives, high-stakes finance, and revenge: This fast-paced thriller has it all. When four of a firm's top earners receive a compulsory company invitation to an escape room, they all put their lives on hold (as they always do) and show up. What happens from there is not what they expected, and the situation unravels, revealing the underworld side of high-stakes finance and company loyalty. A page-turner for sure!"
— Beth Mynhier, Lake Forest Book Store, Lake Forest, IL
Description
---
In Megan Goldin's unforgettable debut, The Escape Room, four young Wall Street rising stars discover the price of ambition when an escape room challenge turns into a lethal game of revenge.

Welcome to the escape room. Your goal is simple. Get out alive.

In the lucrative world of finance, Vincent, Jules, Sylvie, and Sam are at the top of their game. They've mastered the art of the deal and celebrate their success in style—but a life of extreme luxury always comes at a cost.

Invited to participate in an escape room as a team-building exercise, the ferociously competitive co-workers crowd into the elevator of a high rise building, eager to prove themselves. But when the lights go off and the doors stay shut, it quickly becomes clear that this is no ordinary competition: they're caught in a dangerous game of survival.

Trapped in the dark, the colleagues must put aside their bitter rivalries and work together to solve cryptic clues to break free. But as the game begins to reveal the team's darkest secrets, they realize there's a price to be paid for the terrible deeds they committed in their ruthless climb up the corporate ladder. As tempers fray, and the clues turn deadly, they must solve one final chilling puzzle: which one of them will kill in order to survive?

Praise for The Escape Room:

"High wire tension from the first moment to the last. Four ruthless people locked in a deadly game where victory means survival. Gripping and unforgettable!" — Harlan Coben

"Amazing...a thriller set in an elevator [that explores] the vast territory of people's worst natures. A nightmarish look inside ourselves. Simply riveting." — Louise Penny, #1 New York Times bestselling author
About the Author
---
MEGAN GOLDIN, author of THE ESCAPE ROOM and THE NIGHT SWIM, worked as a correspondent for Reuters and other media outlets where she covered war, peace, international terrorism and financial meltdowns in the Middle East and Asia. She is now based in Melbourne, Australia where she raises three sons and is a foster mum to Labrador puppies learning to be guide dogs.

January Lavoie has narrated the Sweet Valley Confidential series for Macmillan Audio, as well as The Snow Angel by Glenn Beck and Dreams of the Dead by Perri O'Shaughnessy.
How to read more
https://unsplash.com/@birminghammuseumstrust
( Birmingham Museums Trust's Digital Image Resource shares thousands of images that span decades of Birminghams vibrant past)
How To Read More
If you love reading, but for some reason you read less and less, know that everything is fine. It happens.
Our lives today have so many things that distract us - how can we not put books away when all these movies, TV shows, YouTube videos, social networks and endless surfing in online stores are around ...
Yes, it's really hard to resist, but you certainly can!
In this article, we want to share with you some tips to read more often and more successfully.
These are some notes and some practices that we have collected for our SUNDOG BOOKS readers club.
And maybe it will bring more books into your life!
Why do we want/need to read more?
To start reading more, you have to understand why you need it.
And you will be surprised, but your goals can be quite varied:
- for work
If you read a lot on duty, then you definitely need to speed up the process. The logic here is simple: read faster → work faster → more time for books for yourself.
- for education
you need this for your educational career or sometimes you just want to read to learn. And, with all the new alternative ways to gain knowledge (podcasts, online courses and videos), the book still does an excellent job of this task too.
- for self-development
all exercises for increasing speed, one way or another, improve cognition and memory.
- for fun
because good books always = fun!
Book lovers have an additional special goal for reading more often. If you love literature, you will understand what we mean: you want to catch everything - to follow modern literature, and not forget about the classics, look into non-fiction and children's publications. And there's so much you want to reread! The goals are ambitious, but attainable if you read a lot.
And so - How to read more:
We will tell you about the methods that we use ourselves. Perhaps some will suit you as well.
15 minutes a day
You've probably already heard this rule: if you want to start a healthy habit, devote 15 minutes a day to it. Once upon a time, we all read irregularly, in jumps and starts. Sometimes we cannot open a book we have begun weeks ago. Therefore, you should decide to create a rule: devote at least 15 minutes a day to reading. Try reading before bed, or maybe during lunchtime, or even when you are having your morning coffee.
You will see progress immediately. You will notice that almost always your 15 minutes will grow into half an hour or more. But the most remarkable thing is that in three weeks your hands themselves will be looking for a book.
50 First Pages
This method advises - If the book hasn't hooked you from the first 50 pages, put it aside! Life is too short to read uninteresting books.
It is necessary to change the approach to books. At first it will be hard for you to stop and put the book down. Even if we put the book away, it will seem to reproach us from the shelf, mocking us as quitters. But in the end we should come to one simple thought: if it doesn't hook your attention, you should not force yourself to read it.
***Fifty pages is not a bad test. Not the most objective, but definitely effective. It helps to determine whether it interests you or not, and whether to spend time on things that do not excite.
Reader's Diary
This should be used to improve the quality of reading - to make it more conscious. For starters, it can be a simple notebook with headings:
Author
Year of publication
Main characters
Scene
Plot
Theme
Quotes
And, yes, a reader's diary is not a thing about quantity, but about quality. But, it can also motivate. When you open your diary and start looking at quotes (especially quotes), you immediately really want to read.
Maybe a Book Bet?
Several people can participate. Members of the betting group can come from friends, family, and also your colleagues. And of course you can set your own rules for participation, but we'll give you a simple example:
Everyone in the group should read and review a book over the course of a month with weekly updates. Anyone who does not finish a review buys the book for all other participants for the next month.
Speed Reading
Another effective way to increase the amount you read is speed reading. The logic here is simple - the faster you read, the more books you can enjoy.
*There are many online courses on speed reading, and you can also study on your own using instructional books. But, it is worth noting that this is a serious learning process that will require some effort on your part.
Outcome

Reading every day is quite attainable, the main thing is to try to make it a habit.
Sometimes, instead of heading for Facebook, try opening a book and soon you won't even remember why you needed to wander around social media.
And also - don't forget about audiobooks. They are a cool way to take the load off your eyes sometimes and just immerse yourself in the story. Some books are really strong in voice acting.