The Very Hungry Caterpillar (Board book)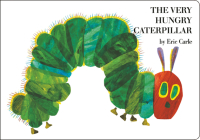 Description
---
THE all-time classic picture book, from generation to generation, sold somewhere in the world every 30 seconds! A sturdy and beautiful book to give as a gift for new babies, baby showers, birthdays, and other new beginnings!
Featuring interactive die-cut pages, this board book edition is the perfect size for little hands and great for teaching counting and days of the week.
"The very hungry caterpillar literally eats his way through the pages of the book—and right into your child's heart..."
—
Mother's Manual


"Gorgeously illustrated, brilliantly innovative..."
—The New York Times Book Review
About the Author
---
Eric Carle is acclaimed and beloved as the creator of brilliantly illustrated and innovatively designed picture books for very young children. His best-known work,
The Very Hungry Caterpillar
, has eaten its way into the hearts of literally millions of children all over the world and has been translated into more than 25 languages and sold over twelve million copies. Since the
Caterpillar
was published in 1969, Eric Carle has illustrated more than sixty books, many best sellers, most of which he also wrote.
Born in Syracuse, New York, in 1929, Eric Carle moved with his parents to Germany when he was six years old; he was educated there, and graduated from the prestigious art school, the Akademie der bildenden Kunste, in Stuttgart. But his dream was always to return to America, the land of his happiest childhood memories. So, in 1952, with a fine portfolio in hand and forty dollars in his pocket, he arrived in New York. Soon he found a job as a graphic designer in the promotion department of The New York Times. Later, he was the art director of an advertising agency for many years.
One day, respected educator and author, Bill Martin Jr, called to ask Carle to illustrate a story he had written. Martin's eye had been caught by a striking picture of a red lobster that Carle had created for an advertisement. Brown Bear, Brown Bear, What Do You See? was the result of their collaboration. It is still a favorite with children everywhere. This was the beginning of Eric Carle's true career. Soon Carle was writing his own stories, too. His first wholly original book was 1,2,3 to the Zoo, followed soon afterward by the celebrated classic, The Very Hungry Caterpillar.
Eric Carle's art is distinctive and instantly recognizable. His art work is created in collage technique, using hand-painted papers, which he cuts and layers to form bright and cheerful images. Many of his books have an added dimension - die-cut pages, twinkling lights as in The Very Lonely Firefly, even the lifelike sound of a cricket's song as in The Very Quiet Cricket - giving them a playful quality: a toy that can be read, a book that can be touched. Children also enjoy working in collage and many send him pictures they have made themselves, inspired by his illustrations. He receives hundreds of letters each week from his young admirers. The secret of Eric Carle's books' appeal lies in his intuitive understanding of and respect for children, who sense in him instinctively someone who shares their most cherished thoughts and emotions.
The themes of his stories are usually drawn from his extensive knowledge and love of nature - an interest shared by most small children. Besides being beautiful and entertaining, his books always offer the child the opportunity to learn something about the world around them. It is his concern for children, for their feelings and their inquisitiveness, for their creativity and their intellectual growth that, in addition to his beautiful artwork, makes the reading of his books such a stimulating and lasting experience.
Carle says: "With many of my books I attempt to bridge the gap between the home and school. To me home represents, or should represent; warmth, security, toys, holding hands, being held. School is a strange and new place for a child. Will it be a happy place? There are new people, a teacher, classmates - will they be friendly? I believe the passage from home to school is the second biggest trauma of childhood; the first is, of course, being born. Indeed, in both cases we leave a place of warmth and protection for one that is unknown. The unknown often brings fear with it. In my books I try to counteract this fear, to replace it with a positive message. I believe that children are naturally creative and eager to learn. I want to show them that learning is really both fascinating and fun."
copyright © 2000 by Penguin Group (USA) Books for Young Readers. All rights reserved.
Coverage from NPR
How to read more
https://unsplash.com/@birminghammuseumstrust
( Birmingham Museums Trust's Digital Image Resource shares thousands of images that span decades of Birminghams vibrant past)
How To Read More
If you love reading, but for some reason you read less and less, know that everything is fine. It happens.
Our lives today have so many things that distract us - how can we not put books away when all these movies, TV shows, YouTube videos, social networks and endless surfing in online stores are around ...
Yes, it's really hard to resist, but you certainly can!
In this article, we want to share with you some tips to read more often and more successfully.
These are some notes and some practices that we have collected for our SUNDOG BOOKS readers club.
And maybe it will bring more books into your life!
Why do we want/need to read more?
To start reading more, you have to understand why you need it.
And you will be surprised, but your goals can be quite varied:
- for work
If you read a lot on duty, then you definitely need to speed up the process. The logic here is simple: read faster → work faster → more time for books for yourself.
- for education
you need this for your educational career or sometimes you just want to read to learn. And, with all the new alternative ways to gain knowledge (podcasts, online courses and videos), the book still does an excellent job of this task too.
- for self-development
all exercises for increasing speed, one way or another, improve cognition and memory.
- for fun
because good books always = fun!
Book lovers have an additional special goal for reading more often. If you love literature, you will understand what we mean: you want to catch everything - to follow modern literature, and not forget about the classics, look into non-fiction and children's publications. And there's so much you want to reread! The goals are ambitious, but attainable if you read a lot.
And so - How to read more:
We will tell you about the methods that we use ourselves. Perhaps some will suit you as well.
15 minutes a day
You've probably already heard this rule: if you want to start a healthy habit, devote 15 minutes a day to it. Once upon a time, we all read irregularly, in jumps and starts. Sometimes we cannot open a book we have begun weeks ago. Therefore, you should decide to create a rule: devote at least 15 minutes a day to reading. Try reading before bed, or maybe during lunchtime, or even when you are having your morning coffee.
You will see progress immediately. You will notice that almost always your 15 minutes will grow into half an hour or more. But the most remarkable thing is that in three weeks your hands themselves will be looking for a book.
50 First Pages
This method advises - If the book hasn't hooked you from the first 50 pages, put it aside! Life is too short to read uninteresting books.
It is necessary to change the approach to books. At first it will be hard for you to stop and put the book down. Even if we put the book away, it will seem to reproach us from the shelf, mocking us as quitters. But in the end we should come to one simple thought: if it doesn't hook your attention, you should not force yourself to read it.
***Fifty pages is not a bad test. Not the most objective, but definitely effective. It helps to determine whether it interests you or not, and whether to spend time on things that do not excite.
Reader's Diary
This should be used to improve the quality of reading - to make it more conscious. For starters, it can be a simple notebook with headings:
Author
Year of publication
Main characters
Scene
Plot
Theme
Quotes
And, yes, a reader's diary is not a thing about quantity, but about quality. But, it can also motivate. When you open your diary and start looking at quotes (especially quotes), you immediately really want to read.
Maybe a Book Bet?
Several people can participate. Members of the betting group can come from friends, family, and also your colleagues. And of course you can set your own rules for participation, but we'll give you a simple example:
Everyone in the group should read and review a book over the course of a month with weekly updates. Anyone who does not finish a review buys the book for all other participants for the next month.
Speed Reading
Another effective way to increase the amount you read is speed reading. The logic here is simple - the faster you read, the more books you can enjoy.
*There are many online courses on speed reading, and you can also study on your own using instructional books. But, it is worth noting that this is a serious learning process that will require some effort on your part.
Outcome

Reading every day is quite attainable, the main thing is to try to make it a habit.
Sometimes, instead of heading for Facebook, try opening a book and soon you won't even remember why you needed to wander around social media.
And also - don't forget about audiobooks. They are a cool way to take the load off your eyes sometimes and just immerse yourself in the story. Some books are really strong in voice acting.